Welcome to the Official Website of JUTA Montego Bay Limited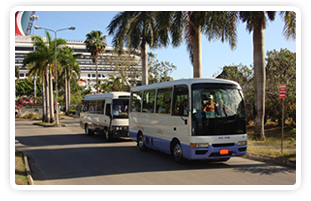 The company operates island wide, chiefly as a supplier of transportation at all hotels and ports of entry.
Our performance over the years represent significant improvement and established an excellent reputation which enabled us to gain recognition from the Jamaica Tourist Board, The Jamaica Hotel and Tourist Association, various businesses and incentive communities.
We take pride in our operation and of utmost importance are the needs of our clients. For these reasons you can be assured of our consistency, which is based on professionalism, experience, responsibility, flexibility, efficiency and punctuality. We strive in all our endeavours to make these the hallmark of our business. 
Juta Tours also specialize in providing private tours for our clients who are staying in a hotel, resort or private Villas for the Montego Bay or Ocho Rios area. 
Not only will Juta Tours save you money, but we will provide the best professional and personalized tour so that your experience in Jamaica will be unsurpassed. For value and quality for your on island tours, be sure to book online and in advance to experience the Juta Tour Difference ...We go the extra mile to make your stay in Jamaica all that you desire.
Featured Tours
Dolphin Cove

Located in Lucea, Hanover, this 20 acre property is the largest natural dolphin lagoon in the world. Visitors have the opportunity to interact and "Swim With" dolphins... 

Read More

Half Moon Beach Ride

A short ride to the beautiful bay at Half Moon, along the beach glimpsing the Dolphins, then swim together with your horse in the cool ocean.

Read More

Dunn's River Falls

A truly outstanding treasure offering 600 feet of climbing pleasure for thousands of visitors and locals every year, it is arguably Jamaica's most popular and famous attraction.

Read More